Which Solar Inverter Brand Should I Choose?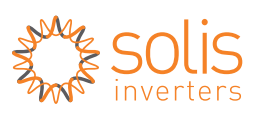 Why Choose Solis Solar Inverters?
Office Based In Australia

10 Year Inverter Warranty On All Models

Quality Inverters At An Affordable Price

Simple Contemporary Design & User Friendly Operation
Solis manufacture everything in house in their own purpose built manufacturing facility. This allows Solis continual improvement during the process and complete control over quality assurance.

Solis' energy efficiency data is based on ordinary operational conditions and not a result of unlikely or unsustainable results based on 'ideal' operating circumstances.

Solis products are engineered to deliver long and reliable service. Service and assistance is available from their Australian based office during normal office hours five days a week.

Solis is backed by a locally supported industry standard 5 year 'out of the box' Warranty. You also have the option of extending this warranty for an additional 5 years by registering your residential inverter to have a full 10yr locally backed Optimum warranty. This is available on all Solis residential inverters from 0.7-20kw in size, single and three phase.

Designed for functionality yet has a contemporary finish so that it does not become an unsightly and dominant feature when installed on your home.
Solis S5-GR1P2K-M 2KW inverter

Solis S5-GRIP3K-M 3KW mini inverter
---

Why Choose Sunways Solar Inverters?
Sister Company to Suntech with local customer support

12 Year Parts & Labour INverter Warranty

German R&D with Chinese manufacture

High reliability due to good heat dissipation design
Sunways was founded in Germany in 1993 and after nearly 30 years of research and development, Sunways high-quality PV inverters are widely used in more than 50 countries and regions making the company one of the longest established PV energy suppliers in the industry.

For economies of scale reasons, Sunways production has now moved to Cixi, China while German technical standards are still in use and practice.These include the material selection criteria, software control algorithm, R&D processing procedures, test standards and production management system process.The production facility in China is around 4000m² in size, with an inverter production capacity of about 10,000 units per month. This will soon increase to 20,000 units per month through further production line expansion.

Sunways treats product quality as its life and only selects the best in class components. The strict criteria of material selection guarantee the quality and reliability of our products. The row materials such as electronic components, mechanism materials, and other auxiliary materials are 100% supplied by world-renowned brands such as Panasonic, Infineon, Texas Instruments, SiTime, etc., which are famous for their quality and cutting-edge technology in the world.
---
---

Why Choose Fronius Solar Inverters?
More than seven decades ago, Günter Fronius founded the family-owned enterprise. Now the team is made up of 5,000+ people, and together they are driving forward the energy revolution.

Fronius remains, as it has always been, a stable family-owned business. Today Fronius is managed by Elisabeth Engelbrechtsmüller-Strauß, and has now been in family ownership for three generations. The values that were important to her grandfather Günter Fronius remain part of Fronius' culture today. Fronius have a solid and a diverse business with our three pillars of battery charging technology, welding technology and solar energy.

From it's strong roots in Austria they have developed a global presence – Fronius are represented around the world by over 30 national Fronius companies. The Business Unit Solar Energy is an important part of over 20 of these. In addition, with our worldwide partner network of sales and Fronius Service Partners in more than 60 countries, we can ensure that experts are always close by to provide local support for our customers.