All Natural Energy is a privately owned and operated family business that specialises in the repair and maintenance of solar power systems for both grid connect and stand-alone solar customers.
Since its establishment in 2000, All Natural Energy has installed hundreds of both grid connect and remote area solar systems for a range of customers all over NSW. Working in such a fast paced and ever changing landscape, All Natural Energy was proud to reach 20 years in business last year, proving their resilience and reliablilty as a solar installer in a sometimes difficult industry.
Over the past 5 years there has been a sharp increase in the number of solar systems needing repair or replacement due to poorly or cheaply installed components and general wear and tear. Alot of systems installed in the boom of the 60c feed in tariff are now needing inverter replacements, isolator changes or system checks. By drawing on our 21 years of hands-on experience, All Natural Energy Pty Ltd is in an ideal position to assist customers who have been left in the dark when their original installer has closed down. 
All Natural Energy is a husband and wife business that prides itself on providing efficient, reliable and personalised service so you wont just feel like another number. Every one of our customers are important to us so we make sure that for all of our service calls and repairs, Nathan will be the actual person on-site to assist you.
With over 21 years in the solar industry under his belt, Nathan has a wealth of knowledge and personal experience in solar power systems and will offer honest down to earth advice and the highest quality workmanship. He will strive to find the most economical and efficent solution to any problem you may have with your solar power system.
All Natural Energy source their products from only proven long standing manufacturers which are backed by long term warranties and service. We are proud to sell quality products from SMA, Fronius, Growatt, ABB and various other industry leading companies. All of our products have offices in Australia which offer our customers more reliability and better access to warranties if needed in the future.
All Natural Energy operates under full CEC Accreditation (CEC Number A6975251) and is licensed to design, supply and install grid connect solar power systems as well as stand alone power systems for people in remote areas.
If you need assistance with your existing solar system please call our office on 02 4573 1441.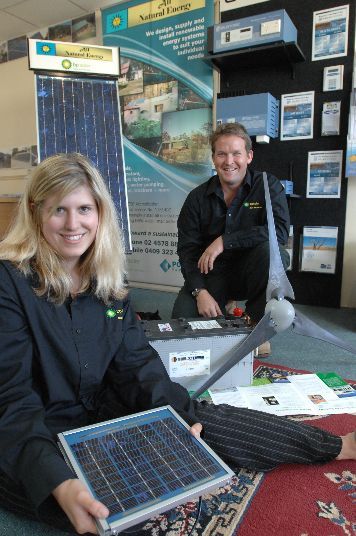 Nathan & Amie Brown
Get in Touch
This email address is being protected from spambots. You need JavaScript enabled to view it.